Newfab is an off-site manufacturing company specializing in modular construction. We provide a wide range of products, from temporary facilities to mid-rise high-end hotels.
Saudi Company for Prefabricated Buildings LLC (Newfab) has established itself as a leader in rapid manufacturing and construction of various types of buildings, including quality compounds, government facilities, and commercial complexes. Newfab's expertise in fabrication techniques has contributed to its regional leadership position. Additionally, mechanization has been a valuable tool for achieving high productivity within the industry.
Our expert management team and talented technical group have a proven track record of delivering superior performance in manufacturing prefabricated buildings and ensuring timely project completion. Newfab is always ready to take on new initiatives to meet the growing challenges in design, fabrication, logistics, and renewable technology. We take pride in pushing the boundaries to elevate our products to new levels.
Our objective is to better serve the changing needs of our clients. We hold ISO 9001:2015 Quality Systems Accreditation, ISO 14001:2015 Environmental Management Accreditation, and adhere to the 18001:2007 Health and Safety Management policies.
With Newfab's exceptional reputation and current Aramco's 9COM accreditation, we not only attract talented employees and investors but also provide operational expertise that adds substantial value to our clients.
At Newfab, we foster a culture that promotes hands-on attitudes towards the presentation and execution of superior products, innovation, and excellence for the benefit of all.
Newfab is an off-site manufacturing company specializing in modular construction. We provide a wide range of products, from temporary facilities to mid-rise high-end hotels. Newfab's pro prietary steel volumetric modules, manufactured and finished off-site, offer excellent solutions for new projects and possess numerous advantages among others.
With 40 years of experience in off-site manufacturing, Newfab is the ideal partner. From engineering integration through "Design for Manufacture and Assembly" (DFMA), to project execution using Modern Methods of Construction (MMC), Newfab's core values consist of :
Design flexibility
Shorter project duration
Minimal environmental impact
Cost efficiency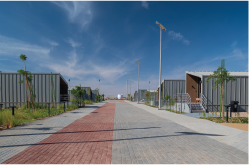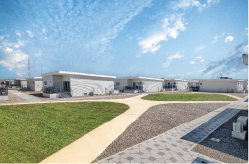 Newfab excels in designing and building cost-effective, sustainable modular structures for various applications, such as housing, schools, and healthcare facilities.
Our experienced team of architects, engineers, and project managers provide comprehensive end-to-end services, including site assessment, customized design, engineering, production, transportation, and installation.
With an environmentally friendly approach, innovative technology, and reduced waste, Newfab meets the growing demand for sustainable and affordable construction solutions in Saudi Arabia and beyond.
Poised for domestic and international expansion, Newfab is committed to becoming an industry leader in modular construction, delivering exceptional value and satisfaction to clients.
Our vision is to be the most reliable and innovative manufacturer, service, and solution provider in the prefabricated building industry. We aspire to set new standards of excellence by consistently delivering high-quality products and services to our clients. Through our commitment to innovation, we aim to revolutionize the way buildings are constructed, offering efficient and sustainable solutions. By focusing on reliability and staying at the forefront of industry advancements, we strive to be the trusted partner for all prefabricated building needs.
Our strategy has been consistent for decades, aiming to deliver superior products and provide outstanding value to our clients.
Our highly talented workforce is dedicated to achieving our strategy.
The management team is determined to progress and expand our business to continuously meet the changing needs of our clients.

For the past thirty years, we have been dedicated to engineering, manufacturing, and assembling prefabricated buildings, including single and double-story structures, at affordable prices and delivering them within record times. From single accommodation and housing units to large labor camps and site offices, we have served the construction, industrial, and residential market segments across the Kingdom of Saudi Arabia and the GCC. Our continuous pursuit of excellence has built our reputation over the years.
We constantly strive to meet or exceed the increasingly demanding expectations of our customers by continuously revisiting our operational processes, without compromising the quality of our products, the safety of builders and occupants, and the respect for our environment.

Less than a decade ago, we capitalized on our manufacturing strength and expanded into the production of wooden doors and door frames, driven by the same passion for quality and affordability that characterizes our prefabricated buildings. We have successfully introduced fire-rated and non-fire-rated doors suitable for various building sectors. To date, we have manufactured and installed approximately 100,000 door sets in residential, commercial, educational, institutional, and healthcare facilities across the Kingdom of Saudi Arabia